For the last few years, we have offered an afternoon tea here at the farm. Afternoon tea is an 150 year old English tradition. In the 19th century, the upper class did not eat until eight o'clock in the evening. Therefore there was a long stretch of time between lunch and dinner. For a certain countess, Anna van Bedford, this was too long a time to go without. Therefore she had her butler serve tea and sandwiches with cake around four o'clock. Frequently she asked friends over and through this method the habit spread throughout the aristocracy. Now - a century and a half later - afternoon tea has spread to all the English citizens.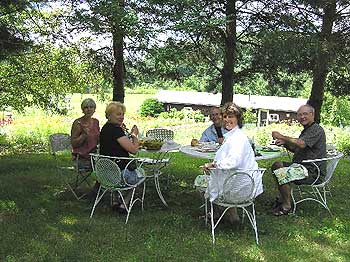 The Wooden Shoe Herb Farm will not do scheduled teas as of the summer of 2010. But we will do special teas for groups of 6 or more. Our afternoon tea includes crackers with herbal toppings, sandwiches with salmon and dill; mint and cucumber; tomato, cream cheese and basil; and egg salad with lovage. Scones with jam and cream. A selection of herbal cakes. A sorbet, cookies and a wonderful rich desert will complete the tea. This will all be accompanied with a herbal water and lemon verbena tea. We have a beautiful setting that lends itself to spending some relaxing leisure time to feeding the soul. Come and enjoy an informative talk as you sit under the pines, overlooking the gardens while you indulge in herbal goodies. Everything is homemade here at the farm. The price is $25 per person.
If you would like a tea at a special time for your group, please call the farm to arrange this event.