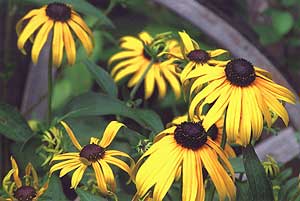 photo by Reini Moser, landscape designer
May 6th - Opening Day
. We will be ready to sell our herbs and perennials. Spring is finally here - time of growth. During this season you will find wonderful plants here at the Wooden Shoe plus a shop filled with interesting accent pieces for your garden, deck or patio. We open at 10 a.m. Welcome to a new year here at the farm.
May 7th and 8th - 11 a.m. - 4 p.m. Spring Open House. We are getting ready for Mother's Day here at the farm. Come and buy something for your mom and bring a friend.
The Spring Open House is just in time for Mother's Day. Last year we saw a lot of new customers and we are going to do it again this year - our ninth annual spring open house. Come and enjoy. A wreath, swag or arrangement of dried and preserved flowers will be a lasting gift. These arrangements last and last without any care. Or a beautiful plant, like a rosemary or a tree peony. These gifts are all expressions of love for that special person in your life. This year we have added some new products to our bath and body section. We have a wide selection of gel candles, creams, linen sprays and bath salts.
June - October - Farmers' Markets at Allen Street and East Lansing.
June, September, November & December - Scheduled Classes. Please see our Classes Page for details.
June 26th - Closed for the summer.
October 28th - Re-open for the fall season.
November 10th, 11th and 12th - Mason Holiday Craft Show.
We have been participating in the Mason Holiday Craft Show for over 25 years. It is time for you to buy those Christmas gifts for teacher, office workers or friends. The maps will be available here and will be posted on this website once we get closer to the actual date. We have 15 houses participating with a variety of crafts. A fun time to become familiar with the farm if you have never been here.
November 26th and 27th - Christmas Open House.
We will have available a variety of fresh greens. Kissing Balls, Swags, Arrangements and Wreaths made especially for the Christmas season. Make it a tradition to stop and see what the Wooden Shoe has to offer you for the holidays. You will not be disappointed in the selection and prices.
Advent Wreaths - For the past few years, we have had an advent wreath class on the Saturday before advent. The advent wreath is an old fashioned way of celebrating advent. The wreath is made up of juniper and herbs with four candles, three purple and one pink. Some ornamental herbs are also used to give some color to the wreath. Last year we again accepted special order requests. Call and order your special advent wreath for your home or church. The price is $28.
December 3rd - Christmas Class
December 3rd - Closed for the season.
TALKS throughout the year - I give talks to varying clubs and organizations. If you would like me to do a presentation for your club, please contact me for fees, times and dates.
Gift Certificates are available.
return to top
home | upcoming events | classes | farmers' markets | plants | gardens
gift shop | visit or contact us