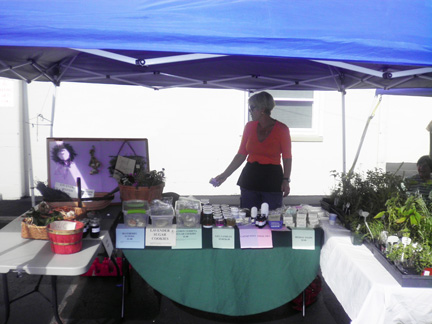 For the past six years I have been participating at the farmers' markets in Allen Street and East Lansing.
Allen Street Market will be located at the Allen Neighborhood Center, 1611 E. Kalamazoo Street. Market will open Wednesdays May 11th thru the end of October. The market is open from 2:30 - 7 p.m. Please check their website for more details.
East Lansing Market is on Sundays from 10 a.m. - 2 p.m. from June 5th to the end of October in Valley Court Park.
Products sold at the market usually include the following, depending on time of year and availability:
Herb plants - common plants as well as the not so common, such as patchouli, bay, stevia, white sage and white lavender


Candles - both soy and gel


Soap - regular soap plus goat milk soap. Scents include lavender oatmeal, peppermint oatmeal, patchouli , vanilla, cedarwood-sage. Many more scents are available


Body Products - creams, lotions, essential oils, linen spray, lip balms


Dried Herbes d'Provence, Italian Seasoning, and ground Cayenne Peppers, teas, lavender flowers


Catnip Toys


Lavender bunches


Herbal cookies such as Lavender or Lemon Verbena Sugar Cookies, Lemon Verbena Madaleines, lavender brownies, rosemary shortbread, chocolate mint chocolate chip cookies, blueberry or plain scones


Jams - raspberry, blueberry and strawberry. Jellies – jalapeno, lavender, lemon verbena and rose geranium


Fresh cut herbs


Fresh floral and herbal bouquets


Lavender wreaths and lavender wands


Vinegars


Herbal salts
In the fall, we will have many knit items such as floral scarves, floral pins, fingerless mittens, hats, headbands, boot toppers, cowls and many more items. We will also have broom corn decorations, bittersweet branches as well as cornucopias.
Late fall we have Christmas greens, wreaths, kissing balls, advent wreaths, swags, boxwood trees and table arrangements.
All products are herb related and made on the farm by me. During the farmers' market season the farm is not open but if you cannot make it to one of the markets, let us know and we will gladly welcome you here at the farm during one of our at-home days.
So stop by and visit our booth. Keep up on our Farmers' Markets, shows and classes by following us on our facebook page - WoodenShoeHerbs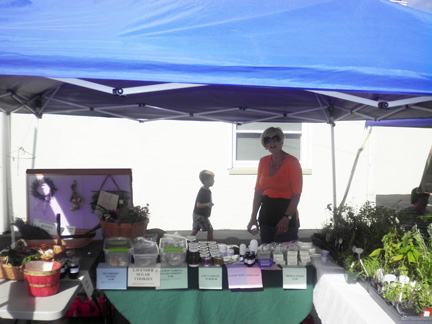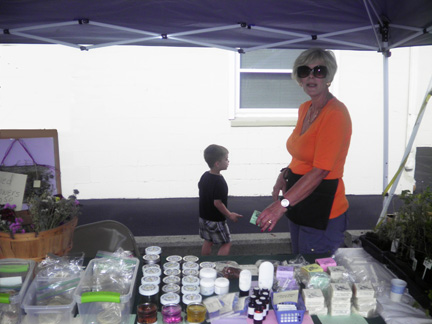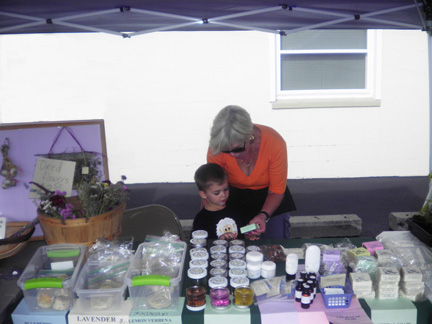 return to top
home | upcoming events | classes | farmers' markets | plants | gardens
gift shop | visit or contact us