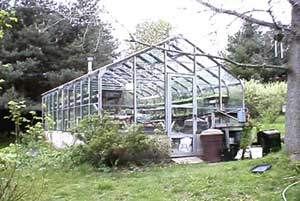 You will notice that we have discontinued with the plant list in our annual newsletter. Our plant selection changes from year to year and we feel that if we give you a list, we should have all the plants on it available to you. Over the years it has not been profitable to keep our everlasting plants on the racks for our customers. So we have gone to a "call" method. If you wish to have a flat or flats of everlastings, you need to let us know by the end of March so we can have them ready for you. There are also a lot of plants we do not keep on the racks since the demand for them is small. We have them, so if you do not see the plant you want, be sure to ask and we will do our best to accommodate you.
There are quite a few new varieties this year along with our unique regulars. We have added to our list of lavenders. We carry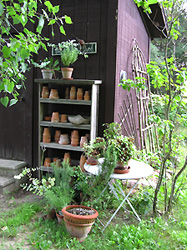 quite a few tender lavenders. A lot of people do not wish to take the time to care for a tender plant - one that will not survive our winter if left out of doors. If you keep them in pots all summer, and just bring the pot in the fall, you will have no trouble having the plant survive the winter. They will bloom continuously in your house, and the smell is fantastic. When spring comes, out they go again. Lavenders are easy to care for as a house plant since they are not susceptible to bugs or diseases. We have a few new rosemaries this year also. One that we carried in a limited supply last year was Barbeque Rosemary. This rosemary has a light barbeque taste, great for grilling in the summer. We have a miniature rosemary for those of you that have fairy gardens or trough gardens. Along with the miniature rosemary, we have elfin. Elfin thyme is a very low growing, non flowering thyme. These are just a few of the new varieties we have. Come and enjoy browsing through our plants racks - we know you will find something just perfect for your garden or patio.
| | |
| --- | --- |
| | |
| Old Fashioned Rose | Attar of Roses |

Herb of the Year 2017 - Cilantro/Coriander
Cilantro/Coriander is an annual herb, where cilantro is the green plant and the seeds are coriander - both are edible. Different people perceive the taste of cilantro differently. Those who like cilantro say it has a refreshing, lemony flavor. Those who dislike it say it tastes soapy and smells rotten. The fresh leaves are an ingredient in Mexican cooking. Doriander seeds are used mainly in Indian cooking.
It is very difficult to grow cilantro. It grows best in a well drained moist soil. It grows fast in the cool weather of spring and fall. When the weather gets warm the plant sends up long lanky flower stalks bearing flat umbels of white or pinkish blossoms which later produce coriander seeds. Plant cilantro in a bed devoted to herbs where it can reseed. In order to have cilantro all summer long, one must plant successive plantings every 2 to 3 weeks. From the time of sowing seeds, cilantro leaves can begin to be harvested in about 3 to 4 weeks. Harvest while it is low - cut the leafy stems near ground level. Avoid cutting more than one-third of the leaves.
The plants can withstand a light frost.
Recipes:
Mango Salsa
Peel and chop ripe mangoes into small chunks
Chop jalapeño peppers
Cilantro leaves finely chopped
Mix together
Guacamole
Small onion
Ripe tomatoes
Lime juice
Avocados
Fresh cilantro
Garlic
Add salt to taste after mixing ingredients
Salsa
Chopped tomatoes
Chopped green bell peppers
Diced onions
Minced fresh cilantro
Lime juice
Chopped jalapeño peppers
Add salt and pepper to taste
return to top
home | upcoming events | classes | farmers' markets | teas | plants | gardens
gift shop | visit or contact us