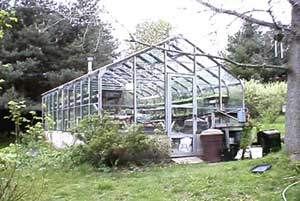 You will notice that we have discontinued with the plant list in our annual newsletter. Our plant selection changes from year to year and we feel that if we give you a list, we should have all the plants on it available to you.
There are quite a few new varieties this year along with our unique regulars. We have added to our list of lavenders. We carry quite a few tender lavenders. A lot of people do not wish to take the time to care for a tender plant - one that will not survive our winter if left out of doors. If you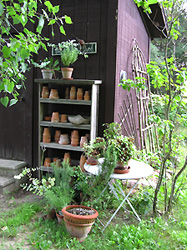 keep them in pots all summer, and just bring the pot in the fall, you will have no trouble having the plant survive the winter. They will bloom continuously in your house, and the smell is fantastic. When spring comes, out they go again. Lavenders are easy to care for as a house plant since they are not susceptible to bugs or diseases. We have a few new rosemaries this year also. One that we carried in a limited supply last year was Barbeque Rosemary. This rosemary has a light barbeque taste, great for grilling in the summer. We have a miniature rosemary for those of you that have fairy gardens or trough gardens. Along with the miniature rosemary, we have elfin. Elfin thyme is a very low growing, non flowering thyme. These are just a few of the new varieties we have. Come and enjoy browsing through our plants racks - we know you will find something just perfect for your garden or patio

Herb of the Year 2019 - Anise Hyssop
Anise hyssop is an hardy perennial that belongs to the mint family. It grows to between 2-3 feet high, has oval pointed leaves with whitish undersides and has an anise-mint scent. Long spikes of purple-blue flowers appear in late summer.
Anise hyssop grows in rich, moist soil in a sunny site. I have found it in very shady spots since it self-sows quite readily. It can very easily be grown from seeds or root division.
Bees and hummingbirds love this plant and will be attracted to your garden if you grow these plants.
The dried flowers can also be used in dried arrangements as the blossoms retain their fragrance and color.
Uses for Anise Hyssop:
1. Dream pillows - stops nightmares and encourages sweet dreams.
2. Relaxing and Healing Bath Infusion- put dried leaves in a square of cheesecloth and hang from the tub faucet. Also used for pain relief so it is good for sore muscles.
3. Cordial - Anise Hyssop is a traditional ingredient in absinthe and makes for a tasty homemade infusion. Fill a jar half full with fresh leaves and fill the jar completely with vodka, cover and let sit for a month. Strain the leaves and sweeten with sugar syrup to taste. You now have a wonderful anise flavored dessert cordial.
4. Tea - the tea has medicinal benefits- helps expel mucus making it ideal for treating colds.
5. Flower garnish - garnish for your salad
6. Anise Hyssop jelly
return to top
home | upcoming events | classes | farmers' markets | teas | plants | gardens
gift shop | visit or contact us