Opening May 6, 2022
Friday Thru Sunday - 11 to 4
Closed Monday Thru Thursday

The Wooden Shoe Herb Farm is a working farm. It is located 5 miles east of Mason, in mid-Michigan. The farm consists of the shop, greenhouse, drying barn with classroom, surrounded by acres of organically grown herbs and perennials. The farm is owned by Brenda and Ron Ginther.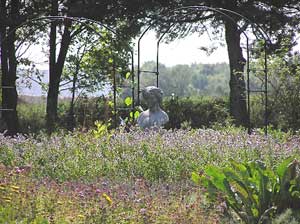 Brenda Ginther founded the Wooden Shoe Herb Farm in Mason, MI in 1987. Brenda, a native of the Netherlands, immigrated to the United States with her parents as a young teen. After attending public school in Lansing, she completed Undergraduate and Master's degrees in Chemistry at Michigan State University. While teaching for Lansing Public Schools, Brenda was an avid gardener in her spare time. It was on an antique shopping trip in St. John's that she discovered the wide world of herbs, and decided to add some Sweet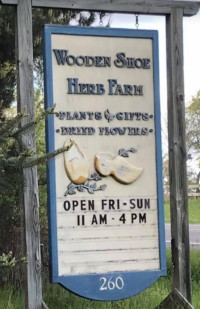 Annie to her gardens. As her knowledge and inventory in herbs grew, so did the idea of parlaying this pastime into a second career. She began to study and develop floral designs with dried herbs and flowers, as well as introduce herself to different varieties. In 1986, she and husband Ron built a greenhouse and a small barn that would serve as a showroom for many dried floral designs Brenda had created. It was at this time that the name of the up-and-coming business was coined – The Wooden Shoe Herb Farm – homage to Brenda's proud Dutch heritage.
Over the past nineteen years, the Farm has grown into an elaborate shop and grounds, with a plant showroom and sprawling gardens. Among the new additions to the Farm over the years are homemade soaps and cosmetics, dried culinary herbs, a heightened plant inventory, and special events including Herbal Teas, Floral design and soap making classes. Brenda offers her increasing knowledge to her clientele through continued studies in herbs and dried flower arranging, after completing several design classes in Europe.